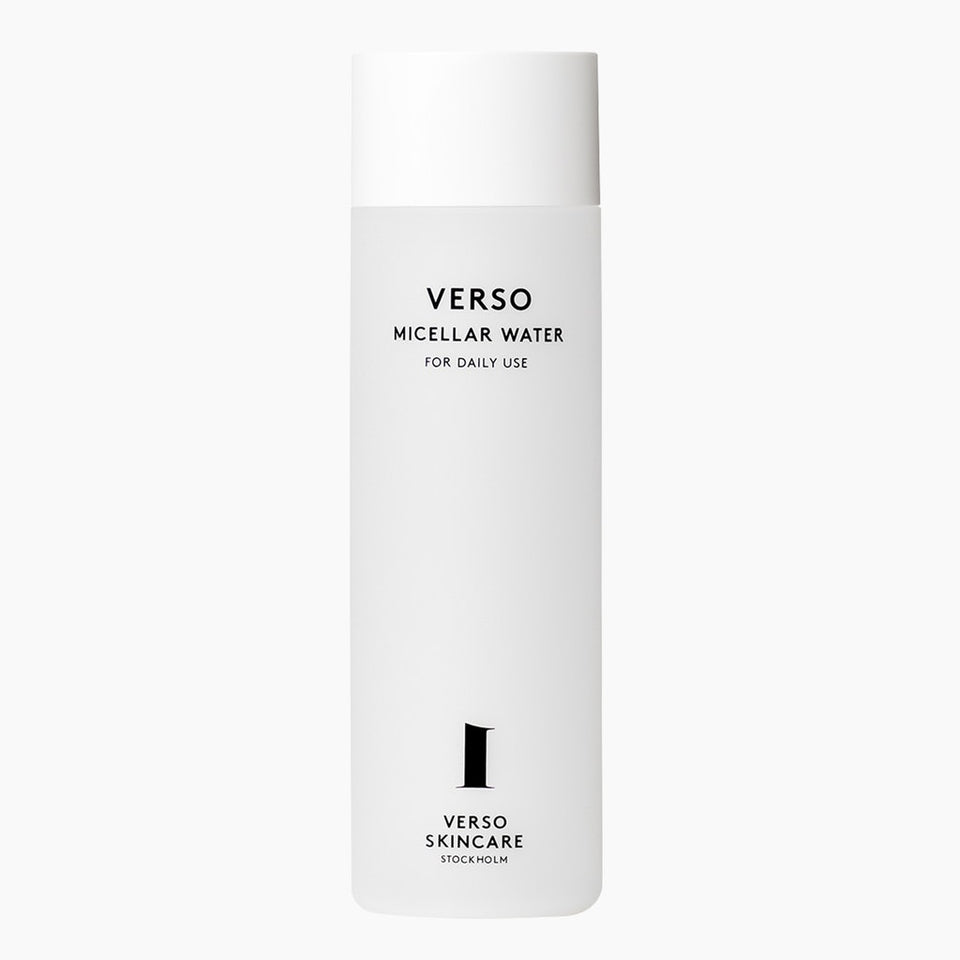 Verso Micellar Water
7350067640637
by Verso
WHEN YOU NEED A COMFORTABLE AND EASY CLEANSER
A gentle and quick cleanser. Cleanses the skin and removes light make-up without causing unnecessary dryness. Makes the daily upkeep of a clean and clear skin an effortless task. The skin is left balanced, soft, and smooth, ready for the next step of your skincare routine in no time.
HOW IT WORKS
Micellar Water has a clear formula consisting of tiny spherical molecules called micelles. When the micellar molecules meet the skin, they act like small magnets to quickly and effectively cleanse your skin. As the micelles are both water-repellent and water-soluble, they can both cleanse and rinse at the same time. Additionally, Verso Micellar Water contains Niacinamide and Turmeric. Together they can alleviate the appearance of temporary redness or discomfort while helping to protect skin from the visible effects of external stressors.
HOW TO USE
Soak a cotton pad with the Micellar Water. Gently wipe all over your face and neck. Continue until your skin is cleansed. For eye make-up removal, use a separate cotton pad soaked in the product. Hold the pad against closed eyes for a few seconds before you gently wipe off the product, starting from the inner corner of your eye and out. Repeat as needed. Use it as your quick and easy morning cleanser, make-up remover, or pre-cleanse before your daily cleanser. The Micellar Water can be used alone if you have sensitive skin and it's sufficient for your skin's needs. No need to rinse off. Follow up with a serum and/or a moisturizer.